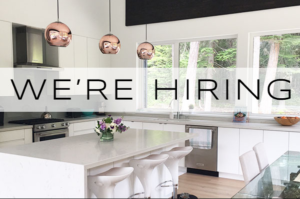 Project Coordinator
This position is part-time/3 days a week
Changing Places is a woman-owned Marin company celebrating its 27th year in business. Our team is expanding to accommodate our exciting growth.
This is a career posting – not just a job posting.
Who We Are
We're a team of professional home organizers who manage the complex process of high-end moves, in addition to renovate, and stage homes anywhere in the word. Our business is fast paced, high-touch, fun, and different every day. We offer a flexible yet hardworking environment.
We are looking for a new Project Coordinator to support our executive team. You will manage mostly business related tasks for the management team, namely the owner and vice president (VP).
We prefer candidates who reside in Marin County.
Responsibilities:
Answering phones and routing calls to the correct person or taking messages.
Performing office duties that include ordering supplies and miscellaneous office maintenance
Basic travel planning including hotels, air, car and events bookings
Provide general administrative support to office staff, namely the owner and vice president
Handle annual dues and subscriptions
Product ordering & research
HR assistant tasks including paperwork management, scanning important employee files, maintaining folder system with Office Manager
Schedule appointments, sales calls for management team
Download photos from iPhone & insert into Dropbox
On occasion, transcribe notes from dictation and notes from walk-throughs, client meetings, etc.
Work within CRM to manage project files and contacts, clean up entries
Compile expense reports
Coordinate & help plan marketing events (with VP or other Project Coordinators)
Learn to draft contracts & estimates
Marketing tasks including ordering collateral, working with graphic designer, re-stocking collateral and marketing materials etc.
Required:
Proven experience as an executive assistant or other relevant administrative support experience
In-depth understanding of entire MS Office suite, Drop Box, basic CRM such as Zoho
In-depth understanding of Apple products including iPhone, iPhoto, iPad and Mac Mail plus photos within Apple products
Quickbooks Online experience is a plus
Ability to organize a daily workload by priorities
Must be able to meet deadlines in a fast-paced, quickly changing environment
Experience using office equipment, including scanners, printers and fax machines
Strong communication skills (via phone, email and in-person)
Experience exercising discretion and confidentiality with sensitive company information
Excellent organizational skills with an ability to think proactively and prioritize work
A proactive approach to problem-solving with strong decision-making skills
Can-do attitude
Upbeat phone and in-person demeanor
Work Environment & Compensation
This position is part time, offers paid national holidays that fall on the employee's work day, and a fun, flexible work environment. This is a non-exempt position (non-salaried and overtime applies, though it will not be expected that this position works overtime).
The office is located in San Rafael, CA.
Please send applications to Info@Changing-Places.com