When the devastating Butte County Camp Fire ravaged Northern California in November, Changing Places owner Margaret Walsh knew she needed to help.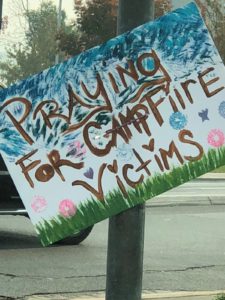 Margaret was diagnosed in 1984 with celiac disease, a genetic autoimmune illness. The body cannot ingest any quantity of gluten. She knew that the emergency food given out, Meals Ready To Eat (MRE) had gluten in it. Therefore, it was imperative to find food for those who had to be on a gluten-free diet.
Margaret contacted Jennifer Iscol, President of the Celiac Community Foundation of Northern California, a friend through their mutual support of celiac disease awareness and advocacy. Margaret is the West Coast business advisor for Beyond Celiac.
Jennifer told Margaret the Gluten Free & Allergen Friendly Expo taking place in San Mateo that weekend would potentially have 300 pounds of food to be donated. She needed more volunteers to help arrange transportation and make community contacts. At that point, it did not appear likely any of the food would be transported for fire relief or reach people with a medical dietary need for it.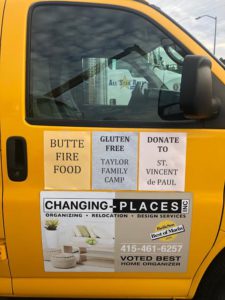 Margaret rented a van and, with the help of her neighbor Alain, headed to the San Mateo Expo. Due to low attendance caused by poor air quality from the fires, along with the generosity of the vendors, she was able to fill the van with 1,200 pounds of gluten-free food! Other volunteers, including one from Peninsula Food Runners, took three carloads of perishable food to two charities in Santa Clara. In Butte, a lot of the food was spoiling because there was not enough electricity for refrigeration.
Margaret and Alain drove to Oroville, CA and delivered the products to the Community Action Agency of Butte County (CAA). CAA runs the distribution center, North State Food Bank, which before the fire was serving 45,000 hungry residents a month at 52 community sites plus 48 U.S. Dept. of Agriculture food sites.
CAA pledged to create a stand-alone gluten-free and allergen friendly distribution site. In order to accomplish this, a great deal must be done. Margaret states, "We have to fill the kitchens, pantries and food bank with gluten-free and allergen friendly food because most donated food has gluten and common allergens in it."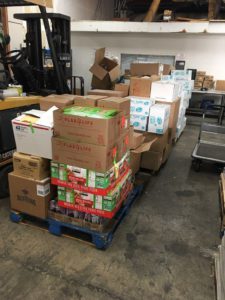 At the moment, the only treatment for celiac disease is to eat a strict gluten-free diet. One in 133 Americans, or 1% of the population (3 million Americans), has celiac disease. It is estimated that 83% of Americans who have celiac disease are undiagnosed or misdiagnosed with other conditions. Research also estimates that 18 million Americans have gluten sensitivity. All of these people need to be on a gluten-free diet. More facts can be found HERE.
This will be an ongoing effort, and again, Margaret knows how crucial it is to get food to these fire victims. "Finding gluten-free food to eat on a daily basis, is a one-meal-at-a-time effort, and that is not easy even without an emergency. The shortage of safe food for people on a medically restricted diet is critically serious in a disaster zone."