Summer is the new Spring!
What used to be a bustling Spring "selling season" for home sellers has turned into a Summer one. The award-winning Changing Places team is already hard at work preparing our clients' home for sale. We're working virtually and on-site, using COVID safety protocols. We're expertly moving our clients forward and meeting "listing-ready" deadlines, too.
How can we help you get ready to list?
Our services include de-cluttering, staging, consignment, donation, finding the perfect mover, arranging cleaning services, furniture repair, digitizing memorabilia, and more!

Help your kitchen live up to its full potential with the right organization tricks. Our area-specific ideas will get your most essential room in the house organized—and rid yourself of "clutter anxiety" for good.
1) Sort:
Tips before you start to sort "Like with like" is the key. As you review items in your kitchen, edit out anything that is:
broken/chipped
outdated
stained/torn
duplicated too many times
starting to take up space instead of being useful
2) Do:
Shelf lining: This will help preserve the condition of your shelves and drawers from accidental spills and rubbing from metal and/or plastic. This is especially helpful whether you're a new home owner or renting. Assess current lining; if you're reusing, clean and reinstall. This is a good time to switch out shelf lining if you don't love your current product. We recommend lining under sinks throughout home as well as any high "traffic" area (e.g. mudroom cubbies, pantry shelves, laundry room detergent shelves, etc.). No liner is needed for glass shelves.

You've probably heard the thoroughly researched data that moving is one of the most stressful of life events, ahead of divorce or a break up. Finding the best moving company, coordinating packing, and then dealing with a dysfunctional home for weeks after moving day are huge contributors to this stress.
Fortunately we're here to help get your home organized as fast as possible. If you're looking for some practical, easy-to-understand tips for stress-free unpacking, take a look at this unpacking article from lifestyle website thespruce.com. Some highlights:
Get the essentials unpacked first, then take your time with the rest of the house.
Plan each room before you unpack too many boxes.
Anticipate future needs. Rather than putting off work—such as lining cabinet shelves or installing closet organizers—do it now, when it is most efficient.
Let each member of the family unpack their own bedroom, as applicable. This allows kids to participate in the event.
---
Spring has sprung! Are you organized?
Start by studying how you and your family move about your house. Recognize how you utilize each room, and how often you're there–this will help prioritize your organizing. We're offering some basic and clever tips for overall home calm: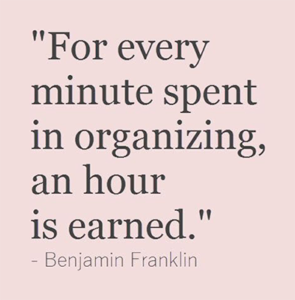 1. RESIST THE PILE HABIT
Most of us walk into our house with purses, groceries, keys, and more. An intuitive "drop zone" off your main entryway creates a home for essential items. It may include a key rack, an inbox for kids' artwork or bills, or an attractive container for everyday items.
Bonus: Find space in your entryway for a custom–or makeshift–mudroom area.