MARGARET FEAREY WALSH, PRESIDENT
---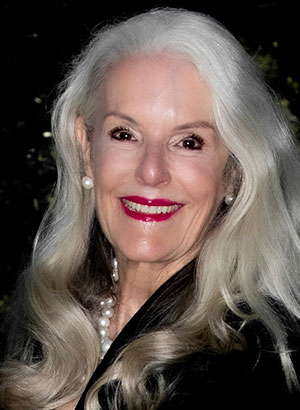 A client once said that Margaret was "a blue blood with blue collar work ethics."
Margaret Fearey Walsh, a native of Philadelphia, grew up in the legendary Chestnut Hill neighborhood. She was a debutante, skier and competitive ice skater and attended an exclusive boarding school in New England.
However, Margaret has never been afraid to roll up her sleeves and work. She studied Interior Design at what is now George Washington University and began working in the design industry. She married and began buying for her husband's family business, the House of Walsh, in Amherst, MA, and later had her daughter Samantha.
Margaret returned to Philadelphia in 1971 to work for Julia Dannenbaum, a talented cooking teacher. She went on to open her own catering company, which was recognized as the #1 catering company in Philadelphia in 1980. Margaret studied at the Culinary Institute of America in Hyde Park, NY, in France with Louisette Bertholle, co-author of the bestselling cookbook, "Mastering the Art of French Cooking," with Julia Child and Simone Beck. She also studied in Italy with Giuliano Bugialli.
At the peak of her catering career, Margaret developed Celiac disease and had to leave the food industry completely. In 1991, she moved to San Francisco, re-inventing herself and starting over by launching her company "Rent-A-Wife," offering catering, errand running and housekeeping for busy executives and families. As Margaret began orchestrating national moves, Rent-A-Wife evolved into Changing Places, Inc.,
It wasn't until later in life that Margaret realized she had been struggling with undiagnosed dyslexia since childhood. Like so many others who face the challenge of this confusing and exasperating issue, she had to create life systems and processes that allowed her to remain organized. Knowing where things are allows one to be more focused, saving time and money in the process. Helping others to function in all aspects of their lives has become Margaret's mission with Changing Places. She strives to create Order, Beauty and Peace of Mind.
Changing-Places, Inc., grew from a home-based operation to a staff of 32, headquartered in San Rafael, CA. When Margaret isn't running her award-winning company, she is playing in France or giving her time and talent to charitable causes.
---
ENJOY A MINUTE WITH MARGARET!