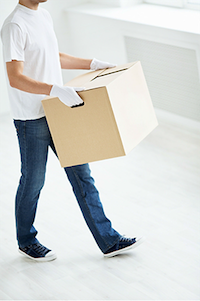 It may be a happy occasion, but a move is still a disruption of your routine. And any disruption of your routine causes stress. Moving disrupts the entire family.
Moves are considered one of the top five biggest stressors in life (alongside job loss, divorce and major illness).
If moving is so stressful, why do we do it? According to Forbes Magazine we move for positive reasons: to start a family or a new job; to live on our own, be closer to work or retire; to have a yard for a dog.
When the tasks associated with the move start to seem unbearable, take a deep breath and remember why you're moving. This alone will reduce stress.
15 EXPERT TIPS FOR A STRESS FREE MOVE
PREPARING FOR YOUR MOVE
•  Coordinate your address & utility service changes
•  Empty your freezer. Plan how you'll use your remaining foods.
•  Clean rugs & dry clean clothing before moving, then have them plastic wrapped.
•  Plan for special care needs of infants or pets.
•  Call your mover for insurance options. Don't leave yourself uncovered!
•   Create a binder or folder of move-related receipts & documents.
•   Check with your CPA or accountant for tax deductible moving expenses.
IF YOU PACK YOURSELF….
•   In addition to labeling what's in your boxes, label what room they'll be going into
•   There's an app for that! Moving Van is an iPhone app ($1.99) that lets you snap photos of the contents of boxes, quickly catalog them, and assign each box a name or number.
•   Take a photo of how your electronics are connected so you can remember how and where all the wires go.
•   Mark boxes on the top and on the side
•   Leave drawer contents inside them for the move. Have your movers wrap the drawers closed. Put loose items in Ziploc bags.

ON MOVING DAY
•   Carry jewelry and important documents yourself, or keep in a safety deposit box.
•   Pack an overnight bag that carries all your essentials.
•   Double check closets, drawers, and shelves to be sure they are empty.

Additional Sources: Forbes Magazine, Good Housekeeping, Buzzfeed.com