Changing Places forever changed the lives of three people.
We were hired by Northern Trust, a wealth management and trust company, to help them meet their legal and fiduciary responsibility to ensure a healthy home for their clients.
We transformed a cluttered house infested with mold, rats and extensive water damage into a healthy, vibrant home for a family of three – one of whom is disabled.
This type of project is why we do what we do. We not only transformed a home, but the lives of three people.
…all of this 65 miles from our home base.
Over the course of nearly three years, our crew lived at a local hotel to perform tough, dirty and tiring work.
The first phase of our work included: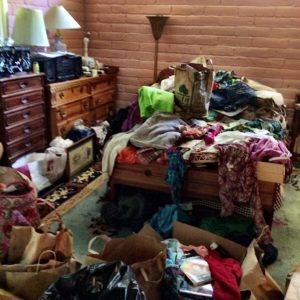 de-cluttering the home
arranging junk removal
organizing items for donation
overseeing minor repair work
A year after the initial cleanup, we were hired for a second phase of de-cluttering in preparation for a full remodel.
Our third phase of work included:
moving the family back into the home
working with our designer to purchase and arrange new furnishings
unpacking and de-cluttering items in storage
delivering a beautifully new finished home
Our amazing team worked tirelessly to create a beautiful, comfortable and safe space for our clients and the finished product is truly a miracle come to life.
Here's what our client had to say:
This is AMAZING!!!!  It is like a completely different house.  Words cannot express our gratitude for your time, dedication and patience to this project.  You have created a safe, healthy and inviting home for our clients.  You are miracle workers. 
– Northern Trust
What made this project special?
There isn't anything we don't do.
As a rule, we don't work with hoarders – but we made an exception.
We rolled up our sleeves, put our masks on and got to work.
How can we help you or your client?
Call us at (415) 461-6257